Sunset Sons' Debut No Bad Days EP Available To Pre-Order Today
Get "She Wants" As An Instant Download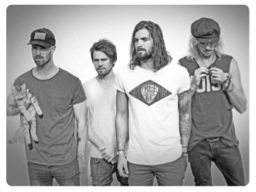 Sunset Sons
, a quartet of three Brits and one Aussie, will release their
No Bad Days EP
on
October 27, 2014
(US). The eight-track EP will be the band's US debut and was recorded in Wales at the legendary Monnow Valley studios with producer James Lewis at the helm. Today, pre-order the EP on iTunes and get the track "She Wants" as an instant download. Click here to pre-order:
http://smarturl.it/SSnobaddays
Stream the track "She Wants" here:
https://soundcloud.com/vagrantrecords/sunset-sons-she-wants/s-qYiFQ
Based in the surfing mecca of Hossegor in Southwestern France, Rory Williams (keys, vocals), Jed Laidlaw (drums), Robin Windram (guitar), and Pete Harper (bass), morphed from full time surfers making music for fun, into a full time band within just a year's time.
The band's sound is communicated loud and clear through their first single " She Wants," a driving song that lyrically narrates the thematic core of the EP...Girls, "lots of girls, different girls," laughs lead singer Rory.
Girls aside, the band is still very much centered on surfing, and is "still based in Hossegor," says Rory. "That was part of the deal. We couldn't write the songs we do living in, say, London. Hossegor is where we feel relaxed enough to write, where the magic happens. It's our fairyland. Whatever happens with the music, nothing will stop us surfing."

No Bad Days EP (US) track listing:
1. She Wants
2. On the Road
3. Loa
4. No Way Home
5. Remember
6. Come Easy
7. Fear
8. Watch Your Back
http://www.sunsetsons.com
facebook.com/sunsetsons
soundcloud.com/sunsetsons
twitter.com/sunsetsons
instagram.com/sunsetsons